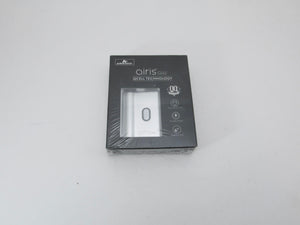 The 
Airis Qute
 is a lightweight and portable variable output cartridge battery kit that is designed with a universal 12mm port that can fit most cartridges on the market including the Qute Fritted Q-Cell coil included inside the Complete Kit option.
It utilizes the versatile 450mAh Qute Mod with preheat mode and adjustable voltage controls. You are equipped with three preset voltage settings (3.4V, 3.7V, 4.2V) that are designed to help you reach top performance with a wide range of concentrate types.
Inside every kit Airistech includes three magnetic adapters (1 tall, 2 rings) to ensure you're able to easily connect with your full arsenal of attachments.
The Qute Cartridge comes with one ring pre-installed and ready for use right out of the box. These premium atomizer uses a food grade ceramic mouthpiece and replaceable Q-cell atomizer design.
Q-cell technology uses a fritted glass quartz material for overall increased surface area. It slowly heats your thick concentrated oils and delivers an ultra smooth quality.