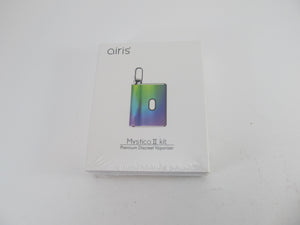 510 Threaded Batery
One of our best selling Batteries for Cartridges.
Comes in a Variety of Colors 
The
Mystica II
is a compact, variable voltage oil cartridge battery set from Airistech. Featuring 3 power levels, preheat mode, and two adapters this amazing little is designed to work with just about any concentrate cartridge you throw at it.
The Mystica II's wide 12mm port (hole) will house most industry standard 510 thread attachments on the market. Airis includes a short magnetic adapter ring plus a tall adapter to accommodate the varying height of 0.5mL/1.0mL cartridges.
At only 1.5 inches long, 2 inches wide, and just over 0.5 inches tall, the Mystica II is small enough for stealthy sessions on-the-go anytime. Though this newest release in Airistech's Mystica series is smaller than its predecessor, the power button has been upgraded, centered and enlarged, making operation even more effortless than before.